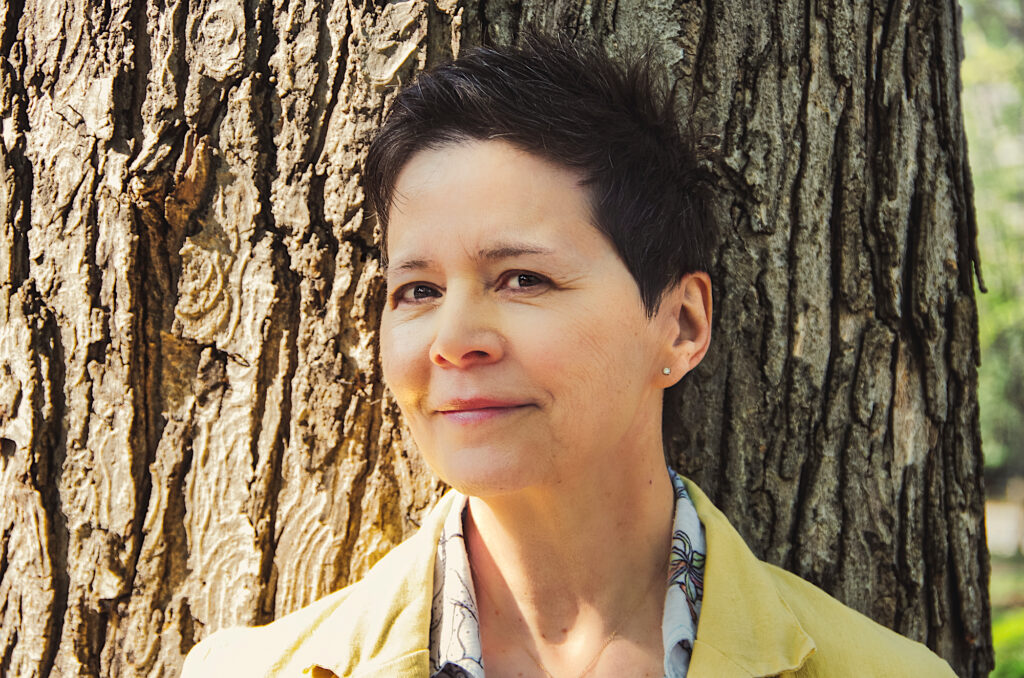 Ann-Marie MacDonald is an author, actor and playwright. She was born in the former West Germany, where she lived her first years on Royal Canadian Air Force Station, 4-Wing. Her parents were from Cape Breton Island – her father of old Scottish stock, her mother the child of Lebanese immigrants. Her paternal grandparents spoke Gaelic as their first language, and her maternal grandparents' mother tongue was Arabic. Ann-Marie is proud of all sides of her heritage.
Ann-Marie trained as an actor at the National Theatre School of Canada, English Section, graduating in 1980. She moved to Toronto where she immersed herself in the vibrant alternative theatre scene, and simultaneously pursued a career in television and film. Her work has always been funny, narrative, feminist, welcoming and queer. She has acted in many new Canadian plays such as Dreaming and Duelling (Young People's Theatre), Generals Die in Bed (Theatre Passe Muraille) and St Sam and the Nukes (Blyth Festival); as well as in celebrated productions of Cloud Nine (Mirvish Productions) and Top Girls (Soulpepper Theatre). She has performed featured and lead roles in numerous TV series and several independent Canadian films including The Wars and Better Than Chocolate, earning a Genie nomination for her role in I've Heard the Mermaids Singing, and winning a Gemini Award for Where the Spirit Lives.
Ann-Marie has co-created and performed original theatrical work such as This is For You, Anna; Nancy Prew: Clue in the Fast Lane; The Attic, The Pearls, and Three Fine Girls, and More Fine Girls. Her first solo-authored play, Goodnight Desdemona (Good Morning Juliet) premiered at Nightwood Theatre and was honoured with the Chalmers Award, the Governor General's Award, and the Canadian Authors' Association Award. It is published by Knopf Canada. Her works for the stage have been produced by numerous theatres in Toronto as well as by the major regional theatres across the country and by both of Canada's major festivals, The Shaw Festival and The Stratford Festival. Her plays include The Arab's Mouth, the libretto for the chamber opera Nigredo Hotel, book and lyrics for the musical Anything that Moves (three Dora Awards, including Outstanding New Musical), Belle Moral: A Natural History (published by Knopf Canada) and, most recently, Hamlet-911 for the 2022 Stratford Festival season, a play directed by, and based on an idea by, Alisa Palmer.
For seven seasons Ann-Marie hosted the CBC documentary series Life and Times. She went on to host and narrate CBC's Doc Zone for eight seasons.
In 1996 Ann-Marie's first novel, Fall on Your Knees, was published by Knopf Canada as part of their inaugural "New Face of Fiction". A critically acclaimed international best seller, it won the Commonwealth Prize, the People's Choice Award, the Canadian Booksellers Association Libris Award for Fiction Book of the Year, and was short-listed for the Giller Prize. In 2002 it became an Oprah's Book Club selection.
Ann-Marie's second novel, The Way the Crow Flies, was published in 2003. An international bestseller and finalist for the Giller Prize, it was a Good Morning America Book Club pick.
In 2014, her third novel, Adult Onset, was published and became a number one national bestseller.
Her latest novel, Fayne, was published in October 2022.
In 2023, the stage adaptation of Fall On Your Knees premiered with a four-city tour.
Ann-Marie is married to theatre director Alisa Palmer with whom she has two daughters. In 2014 the family moved from Toronto to Montreal where Alisa took up the post as Artistic Director, English Section, of The National Theatre School of Canada – Ann-Marie's alma mater.
In Montreal, Ann-Marie enjoyed being the inaugural Mordecai Richler Reading Room Writer in Residence at Concordia University. She continues to coach students in the Acting and Playwriting Programs at the National Theatre School. In 2019 she was made an Officer of the Order of Canada in recognition of her contribution to the arts, and her activism and advocacy for LGBTQ2S+ rights.